According to a good friend of Fr. Jozo, Olivia Kunza, who has known Fr. Jozo since her childhood in Croatia, and who now lives in Burbank, California, Fr. Jozo was interviewed this first week of October, 2011, by the Vatican commission investigating the Medjugorje apparitions. (This was verified by the Bosnian online newspaper, Otvoreno, which said that Vicka Ivankovic-Mijatovic became the second visionary to be questioned on that same day, October 6th–the first seer being Ivanka Ivankovic-Elez, who was interviewed in June.) Ms. Kunza, who now lives in Burbank, California, said of Fr. Jozo, "He was always the example of Jesus and who a priest should be."
I, too, can attest to a couple brief moments in which I personally experienced Fr. Jozo's holiness. On my first trip Medjugorje, in 2001, along with my husband, John, I was standing outside on the steps of St. Elisha Church, Siroki Brijeg, where Fr. Jozo used to speak to and pray over pilgrims. At the time, I didn't know who Fr. Jozo was. Standing near us was a man in a Franciscan robe, who looked at my husband, smiled slightly and gently, and seemed to stare into his soul. He lifted up a fatherly hand, and in a gesture so masculine, and at the same time so carefully loving, he reached out and pat my husband on the cheeck. I cannot fully explain this, but of all the miracles I experienced on that pilgrimage, that one simple gesture and the knowing gaze of Fr. Jozo upon my husband, had the most profound and lasting effect on my heart and memory.
Six years later, when my son Christian was eighteen months old, we traveled as a family to Medjugorje, and again found ourselves standing outside on the steps of St. Elisha Church. This time, I let my husband walk inside to hear Fr. Jozo's talk, as I stayed outside with my son, who ran around the courtyard in a flurry of hyper activity. Nothing calmed him, and I missed the entire talk, because each time I tried to lure Christian quietly into the church, he attempted to run up and down the isles and succeeded in screaming out sentences known only to him. I gave up. At the end of Fr. Jozo's talk, when people were receiving prayers from Fr. Jozo and other priests present, my son somehow ended up right in front of Fr. Jozo, who laid his hand on him briefly. In the blink of an eye, my son changed. He sat down quietly and peacefully, at the base of a stone pillar, and remained perfectly still for the next twenty minutes. With a rosary in his hand, he pulled it towards his sweet little lips and kissed the crucifix, over and over again, saying, "Jesus, Jesus, Jesus."
The Blessed Mother, herself, told the visionaries that Fr. Jozo was a saint. Fr. Jozo also received a personal blessing and encouragement to protect and promote Medjugorje, from Pope John Paul II. (See below.) And Mary showed herself to him in one of the early Medjugorje apparitions. Any saint will receive persecution, and Fr. Jozo is not exempt. See the following webpage to note how his accusers have no merit: http://www.medjugorje-apologia.com/
Fr. Jozo's power of the Holy Spirit, lies in his docile humility. His words below echo a soul docile to the promptings of his mother and his God.
"A priest is not born of an angel but of
a mother. He is chosen from amongst the
people, is anointed with the Sacrament of
Priesthood and returned back to the people,
to the Church – into their care, their prayer
and their love. The priest is a sign of the
omnipotence of our God. Pray for priests.
Love them. Support them. Help them to be
holy. We are weak and fragile. If your knees
are not bent in prayer for us, we stumble and fall. We need your prayer."
– Fr. Jozo Zovko, OFM
By Christine Watkins, author of Full of Grace: Miraculous Stories of Healing and Conversion through Mary's Intercession.
A Letter From Pope John Paul II to Fr. Jozo Zovko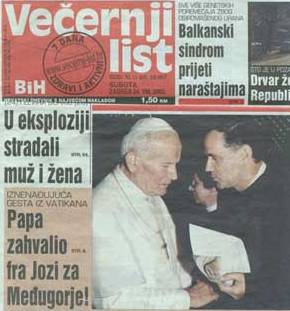 Saturday Evening, August 24, 2002
Zagreb Daily Newspaper,
"The Vercernji List"
Headline Reads:
"A Surprising Gesture From the Vatican. The Pope Thanks Father Jozo for Medjugorje!"
The cover photo was taken when the Holy Father welcomed Fr. Jozo in 1992, in the midst of the Bosnian war. At that time the Pope told him: "I am with you, protect Medjugorje! Protect Our Lady's messages!"
Web site for "The Vercernji List"
http://www.vecernji-list.hr
---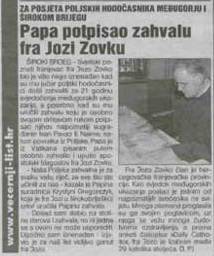 The article in the paper shows Fr. Jozo at his desk, reading the Pope's letter, with a caption to the left of the picture: "The Pope has signed a thank you note to Fr. Jozo Zovko." A translation of the article from Croatian reads:
Siroki Brijeg – The world renowned Franciscan, Fr. Jozo Zovko, was more than surprised when yesterday Polish pilgrims came to thank him for twenty-one years of testifying to the Medjugorje apparitions, and especially when they handed him a thank you note personally signed by the shaky hand of their best known compatriate, John Paul II. Actually, after coming back from Poland the Pope wrote from the Vatican to personally thank and send his apostolic blessing to Fr. Jozo Zovko.
'Our Poland is grateful for your every word, for every thing that you have done for us', said the Pope's collaborator, Krystyna Gregorezyk, who personally handed the thank you note to Fr. Jozo in the Siroki Brijeg church.
'So far I have received hundreds of gifts and thank you notes but none can compare with this one. I am most pleasantly surprised,' a visibly shakened Fr. Jozo said for our paper.
Fr. Jozo Zovko is a member of the Hercegovinian Franciscan Province. As a witness to the Medjugorje apparitions, he has become one of the best known priests in the world. Many tribes have made him their chief and he is connected with many miraculous healings. According to a poll conducted by "The Daily Catholic", Fr. Jozo has been elected among twenty-nine Catholics of the century." (J.P.)
---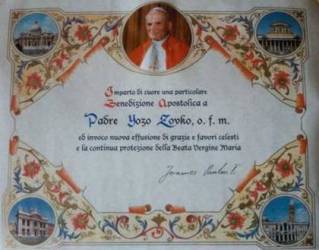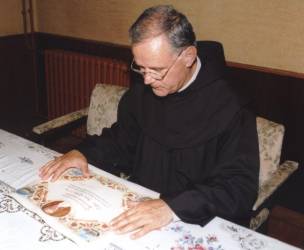 | | | |
| --- | --- | --- |
| The Original Text in Italian:"Imparto di cuore una particolare Benedizione Apostolica a Padre Yozo Zovko, o.f.m. ed invoco nuova effusione di grazie e favori celesti e la continua protezione della Beata Vergine Maria"Joannes Paulus II | | English Translation:"I grant from the heart a particular blessing to Father Jozo Zovko, o.f.m. and I invoke a new outpouring of graces and heavenly favors, and the continuous protection of the Blessed Virgin Mary".Joannes Paulus II. |
---
By Denis and Cathly Nolan [from 2002]:
Now, according to what Krystyna Gregorezyk reported when she presented the message, the letter was written this month in Rome right after the Pope's return from Poland. Krystyna, who works as a collaborator of the Holy Father in the Vatican, had breakfast with him and several other Polish people before they left for Medjugorje. The Pope signed the letter in front of Mrs. Gregorezyk.
It seems therefore that the words reported in the Newspaper, Vercernji List, are real. In a verbal message to Fr. Jozo, conveyed by Krystyna, the Pope also said that he is thankful for his apostolate for Medjugorje, for what Fr. Jozo is doing and has done so far. The pope said he was happy to give him a sign of support.
What did Fr.Jozo do for the Polish people if not spread the Medjugorje messages to them?
Krystyna said that the Pope was very joyful during this breakfast and asked many questions about Medjugorje. He was also happy to hear the testimonies about Medjugorje that the Polish pilgrims reported to him.
Of course, more enquiry should be made about this incredible event. However, today it seems that this is the first written personal word of encouragement, from the Pope, made public by the media, to a witness of Medjugorje. This simple letter stands as a tangible and visible document in support of the Holy Father's heartfelt thanks and encouragement that he sent to Fr. Jozo through Krystyna.
All are encouraged to spread this news – that the Holy Father has sent such a heartfelt blessing to this champion for Medjguorje and Our Lady's apparitions!
Compiled by:
Denis and Cathy Nolan
Children of Medjugorje
P.O. Box 1110
Notre Dame, IN 46556 (USA)
Tel: (574) 234 – 7888
Fax: (574) 287-7875
Email: dnolan@childrenofmedjugorje.com
---